(Mediabiz) Oskar Roehler in the Cannes line-up
Cannes, 03.06.2020, 18:34
More than 20 years after his first film, Oskar Roehler and his Fassbinder biopic "Enfant terrible" with Oliver Masucci and Katja Riemann were included in the Sélection officielle des Festival de Cannes for the first time. "Enfant terrible" was produced by Bavaria Filmproduktion (producer: Markus Zimmer) in co-production with X Films Creative Pool (producers: Stefan Arndt, Uwe Schott), WDR, BR and Arte and was funded by Film- und Medienstiftung NRW, Deutscher Film Fund, FilmFernsehFonds Bayern and Medienboard Berlin-Brandenburg. Markus Zimmer, producer Bavaria Filmproduktion: "There is hardly a greater honor for a German film than to be included in the official selection of the Cannes International Film Festival. Bavaria Filmproduktion is proud to present two German film icons there: Rainer Werner Fassbinder, whose work still influences the work of filmmakers all over the world, and Oskar Roehler, one of the most creative talents that German cinema has produced in recent years. 'Enfant Terrible'Kirsten Niehuus: "Even if we can not all be together at the Croisette, we are happy for the films selected by Cannes! Hopefully we can soon see the latest works of film art on the big screen to inspire the curators' enthusiasm share. "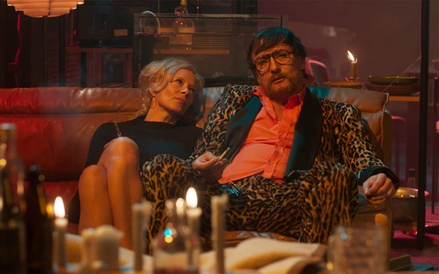 Other well-known directors include Wes Anderson, who with "The French Dispatch" was accepted by Cannes for the first time since "Moonrise Kingdom" Clip, Naomi Kawase with "True Mothers", François Ozon with "Summer of 85", Steve McQueen with two titles, "Lover's Rock" and "Mangrove", Mads Mikkelsen and Maiwenn recorded with "ADN". As expected, the four animated films that received the Cannes label include the Pixar production "Soul" by Peter Docter and the first film by Hayao Miyazaki's son, which was made for the legendary studio Ghibli. Also included are "Ammonite" by Francis Lee with Kate Winslet and "Limbo" by Ben Sharrock, which Thierry Frémaux compared with Wes Anderson. Viggo Mortensen was recorded with his directorial debut, "
Due to the corona pandemic, the regular Festival de Cannes on site at the Croisette had to be canceled. In order to show the flag and to strengthen the cinema, especially in France, the decision was made to take a Sélection officielle. The selected films receive a Cannes label and can therefore compete at the autumn festivals. A number of the films mentioned can be expected, especially in Toronto. Scattered films like "Benedetta" by Paul Verhoeven and "Annette" by Leos Carax have postponed their start dates to the end of 2021 so that they can run in Cannes next year.
Here is the complete list of the Sélection officielle of the 73rd Festival de Cannes:
THE FAITHFUL
(or at least selected before)
"The French Dispatch" by Wes Anderson (USA) - 103 minutes
"Été 85" by François Ozon (France) - 100 minutes
"Asa Ga Kuru (True Mothers)" by Naomi Kawase (Japan) - 140 minutes
"Lovers Rock" by Steve McQueen (Great Britain) - 68 minutes
"Mangrove" by Steve McQueen (Great Britain) - 124 minutes
"Druk (Another Round)" by Thomas Vinterberg (Denmark) - 115 minutes
"ADN (DNA)" by Maïwenn (France, Algeria) - 90 minutes
"Last Words" by Jonathan Nossiter (USA) - 126 minutes
"Heaven: To the Land of Happiness "by Im Sang-Soo (South Korea) - 100 minutes
" El Olvido Que Seremos (Forgotten we'll be) "by Fernando Trueba (Spain) - 136 minutes
" Peninsula "by Yeon Sang-Ho (South Korea) - 114 Minutes
"In the Dusk" by Sharunas Bartas (Lithuania) - 126 minutes
"The Real Thing" by Kôji Fukada (Japan) - 228 minutes
THE NEW BIRDS
"Passion Simple" by Danielle Arbid (Lebanon) - 96 minutes
"A Good Man"by Marie Castille Mention-Schaar (France) - 107 minutes
"Les choses qu'on dit, les choses qu'on fait" by Emmanuel Mouret (France) - 120 minutes
"Souad" by Ayten Amin (Egypt) - 90 minutes
"Limbo" by Ben Sharrock (Great Britain) - 113 minutes
"Rouge "by Farid Bentoumi (France) - 86 minutes
" Sweat "by Magnus Von Horn (Sweden) - 100 minutes
" Teddy "by Ludovic and Zoran Boukherma (France) - 88 minutes
" Février "by Kamen Kalev (Bulgaria) - 125 minutes
" Ammonite "by Francis Lee (Great Britain) - 120 minutes
" Un médecin de nuit "by Elie Wajeman (France) - 100 minutes
" Enfant terrible "by Oskar Roehler (Germany) - 134 minutes
" Nadia,Butterfly "by Pascal Plante (Canada) - 106 minutes
"Here We Are" by Nir Bergman (Israel) - 94 minutes
A OMNIBUS FILM
"Septet: The Story of Hong Kong" by Ann Hui, Johnnie To, Tsui Hark, Sammo Hung, Yuen Woo-Ping and Patrick Tam - 113 minutes
THE DEBUTTERS
"Falling" by Viggo Mortensen (USA) - 112 minutes
"Pleasure" by Ninja Thyberg (Sweden) - 105 minutes
"Slalom" by Charlène Favier (France) - 92 minutes
"Casa de Antiguidades" by Joao Paulo Miranda Maria (Brazil ) - 87 minutes
"Broken Keys" by Jimmy Keyrouz (Lebanon) - 90 minutes
"Ibrahim" by Samir Guesmi (France) - 80 minutes
"Beginning" by Déa Kulumbegashvili (Georgia) - 130 minutes
"Gagarine"by Fanny Liatard and Jérémy Trouilh (France) - 95 minutes
"16 Printemps" by Suzanne Lindon (France) - 113 minutes
"Vaurien" by Peter Dourountzis (France) - 95 minutes
"Garçon Chiffon" by Nicolas Maury (France) - 108 minutes
"Should the Wind Fall" by Nora Martirosyan (Armenia) - 100 minutes
"John and the Hole" by Pascual Sisto (USA) - 98 minutes
"Striding into the Wind" by Wei Shujun (China) - 156 minutes
"The Death of Cinema and My Father Too" by Dani Rosenberg (Israel) - 100 minutes
3 DOCUMENTARY
"The Billion Road" by Dieudo Hamadi - (Congo) - 90 minutes
"The Truffle Hunters" by Michael Dweck and Gregory Kershaw (USA) - 84 minutes
"9 jours a Raqqa"by Xavier de Lauzanne (France) - 90 minutes
5 COMEDIES
"Antoinette dans les Cévènnes" by Caroline Vignal (France) - 95 minutes
"Les deux Alfred" by Bruno Podalydès (France) - 90 minutes
"Un triomphe" by Emmanuel Courcol (France) - 100 minutes
"L'origine du monde" by Laurent Lafitte (France)
"Le discours" by Laurent Tirard (France) - 87 minutes
4 ANIMATION FILMS
"Aya to Majo (Earwig and the Witch)" by Gorô Miyazaki (Japan) - 82 minutes
"Flee" by Jonas Poher Rasmussen (Denmark) - 90 minutes
"Josep" by Aurel (France) - 80 minutes
"Soul" by Pete Docter (USA) - 90 minutes