(Filmstars) REVIEW THE BLACK SQUARE:The black square Pure cinema fun
Pure cinema fun without braking
From Nikolas Masin
When the Russian painter Kasimir Malewitsch presented his "Black Square" (actually just a black square surrounded by a white border) in 1915, he at the same time founded Suprematism - the first art form with the claim of subject-free emotion. The fact that feature film debutant
Peter Meister
now puts this work at the center of his crazy, colorful comedy-thriller hybrid "
The black square
"Transplanted, may provoke a number of interpretive approaches, which would ultimately miss the mark. Instead, Meister, who says he wanted to make a film "that is simply extremely entertaining", relies on naked emotion anyway - and on unfiltered fun.
The art thieves Vincent (
Bernhard Schütz
) and Nils (
Jacob Matschenz
) successfully stole the $ 60 million painting "The Black Square" from a museum. Now they only have to hand this over to their clients on board a cruise ship in a few days - and remain as inconspicuous as possible until then! But it is not made that easy for them: The two passengers, whose identity they had to take over at short notice - thanks to chloroform - are booked performers of all things. And so, as Elvis and David Bowie imitations, they have to please the audience in order not to get caught. In addition, other fellow travelers find out about their goings-on, who from now on try to snatch the showpiece themselves ...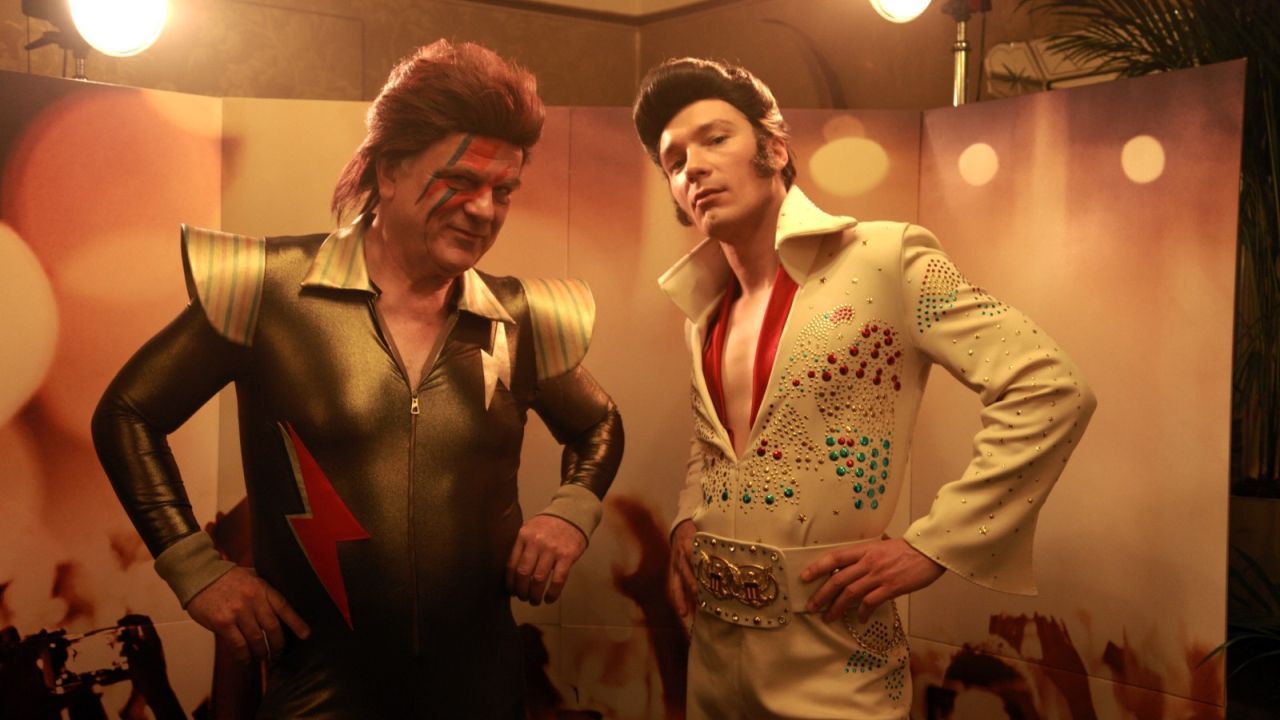 Whoever wants to guarantee quick conflict, like Peter Meister, locks his most unequal figures in a closed room from which there is no escape. And the crook duo themselves are "as unequal as possible": Vincent, brilliantly played by Bernhard Schütz, is the old hand in the business who thinks far too much of himself. Once he "crawled through ventilation shafts for four days," he says to the newcomer gangster - and sounds like a bitter war veteran who is difficult to take seriously because despite all the arrogance he doesn't actually get anything baked. And whenever your pride is hurt, you already know: now it's going to be hilarious! Then he punishes you with a frenetic dance performance with unbroken death-glare eye contact, which outside of his own delta of perception only invites strangers to be ashamed. Or he threatens to turn you off with a single movement. Sure it is.
Most of Vincent's misguided questions come from the young colleague Nils, who at first glance looks no less stupid. He understands "scouting the area" to mean inspecting the menu and the surrounding soft drink machines. But he quickly turns out to be a rough diamond who discovers his true passion while singing as an asparagus Elvis through involuntary stage appearances. Jacob Matschenz ("
The wave
") Perfectly mimics the humble and popular figure and thus the perfect antithesis to Vincent, whose taunts he ignores unimpressed. In addition to silly squabbles, the actors also score points in the few but pointed emotional moments with a seldom-found screen chemistry that barely misses sensual homoeroticism. And then it becomes clear that Vincent's grumpy beard only stems from the fact that he feels lost as a failed artist. But when suddenly his artistic streak is in demand again on the trip, he too blossoms. "Art requires truth, not truthfulness," he teaches his crook friend, while he virtuously wields the brush.
Off with your fingers and nipples
Vincent and Nils are only two of the many chess pieces in Meister's ensemble thriller. There are also the sly on-board pianist Mia (
Pheline Roggan
) and her paranoid simp Levi (
Christopher Schärf
) as well as the desperate cruise manager Helen (
Victoria Trauttmansdorff
) and the lonely security man Bernhard (
Wolfgang Packhäuser
). And the award-winning "Toni Erdmann" actress Sandra Hüller rounds off the polymorphic jumble as the shrewd, cold-blooded art thief Martha. The result is a complex network of relationships, in which the characters themselves lose track of everything: In a ludicrous cat-and-mouse hunt, people are tricked and robbed in order to get to the rectangle - often with in vain effort, because the advertised image has long since become Next hiked on. You fall in love all over the place like a soap love ... Siebeneck?
The nestling itself is so tame between duvet sex with a bra and off-screen smooching that one is amazed at how much the camera likes to hold on to it when cutting off fingers or biting off (male) nipples - or is then again intentional (Americanized) contrast? Either way: "The Black Square" is not afraid to do justice to the color of its title from a humorous perspective.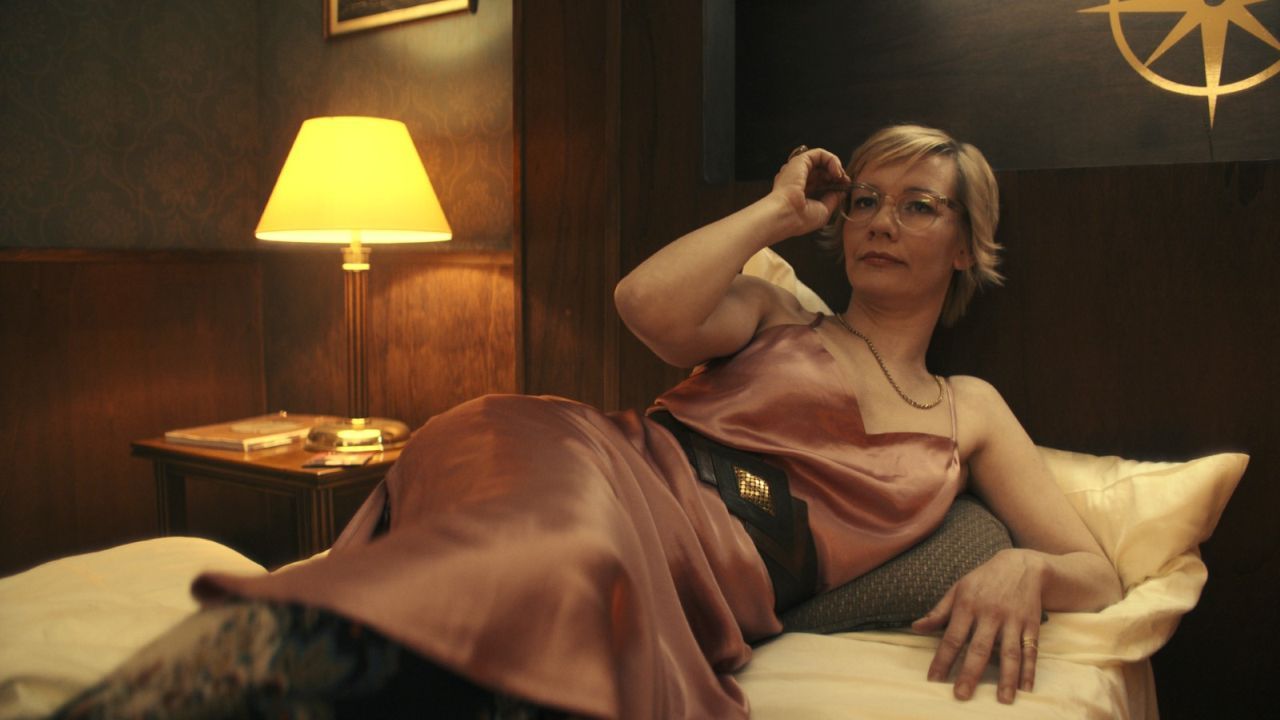 This is where the subject of art forgery comes into play: To recreate the lost painting, Vincent simply paints over a picture from the hallway - with paint made from cocoa beans and his own urine. And it looks deceptively similar to the "real" picture! Certainly a bit of fun compared to the modern understanding of art, but in the same breath also a malicious comment on the social obsession with originals, although even professionals sometimes do not know how to distinguish them from forgeries - as for a long time in the case of the so-called "Hitler diaries "By Konrad Kujau. Speaking of which: Even Malevich simply painted his "Black Square" quite often. After all, it's about the idea - not the specific work.
A nifty script that flatters a little at the end
It is quite understandable that the young director won the Tankred Dorst screenplay award for the script for the 2018 film. Juggling between slapstick and drama, between situation comedy and kitsch seems to be effortless. The nifty twists and turns actually come surprisingly around the corner. And how he manages to never let any of the numerous figures appear flat in such a short running time is a small miracle. But the feverish work is not perfect either. You could go on and on about some irritating incoherence and avoidable logic errors - especially in the grand finale, for the sake of slapstick, you completely fall into grotesque nonsense. But we don't want to see a film that strictly, the bottom line is primarily fun. What is really disappointing is
There is little to complain about with
Felix Novo de Oliveira's
famous camera work, which adapts itself professionally to the rhythmic contrasting game: While the first scenes of the exciting thriller prologue still captivate epic medium long shots and majestically calm tracking shots, the restless handheld camera, which is often used later, skilfully conveys this Cramped feeling of a rocking ship with no possibility of escape with increasing plot muddle. And crisp, modern color grading rounds off the visual feast for the eyes - never intrusive, but skilfully complementing the plot.
Conclusion: Peter Meister's strong cast has completely absorbed the core of his eccentric gangster comedy and shoots the deliciously amusing punch lines from the hip like nothing. The result is a feel-good clockwork (almost) in its purest form. No more and no less