(filmdienst) Hof 2021 - Best titles - The Black Square
Tuesday, November 9th , 2021
In its hybrid form as an on-site festival with an additional streaming week online, the 55th Film Days in Hof turn out to be a diverse, lively festival that even offered first contributions to Corona. The mixture of the best entertainment, a cross-section of new German films, a series of "Hof" classics and a Joachim Król homage rounded out a good year.
The pandemic has brought about a not inconsiderable boost in terms of digitization in certain areas of cultural life, which ensures greater mobility of the offers. The address of the 55th Hof International Film Festival was consequently: "If you don't come to Upper Franconia, Upper Franconia will come to you!". The film days (October 26-31, 2021) took place as a hybrid. The total of 134 films could thus be seen and discussed on site in Hof; however, only half of the usual space was available for this. At the same time, however, it was possible to watch the film program online in front of the home screen, even with an encore of seven days after the end of the festival.
The festival on site or at home
It is not yet entirely foreseeable whether the chosen form of dual track will not have a negative influence on the perception and critical accompaniment of smaller festivals in the national public, because travel costs are eliminated, but at the same time the excitement of the extra-ordinary, which makes the trip worthwhile, is eliminated. In addition, the negative impact on the cinema public caused by the pandemic, which can only be overcome with great difficulty after the lockdown has ended, could also reduce interest in post-reporting on the festival: Who knows if and when the majority of the films shown in Hof will be released in cinemas ?
But on the other hand, hybrid also means that the cinemas on site are open again. Festival director Thorsten Schaumann bowed precisely in front of this community location with the opening film " The Black Square ". The fast-paced black comedy by Peter Meister is about two art thieves who are on a cruise ship the eponymous Malevich painting want to hand over to the client. To get on board, they ambush two other passengers and suddenly find themselves as an integral part of the entertainment program. The first-class film with Bernhard Schütz, Jacob Matschenz, Sandra Hüller, Pheline Roggan and Victoria Trauttmansdorff captivates with all sorts of pop and high cultural references and witty art discourses, if, for example, a hand-made reproduction of the "Black Square" is not said without reason: "It smells after urine and a chimpanzee could have painted it, but the thing is worth 60 million. "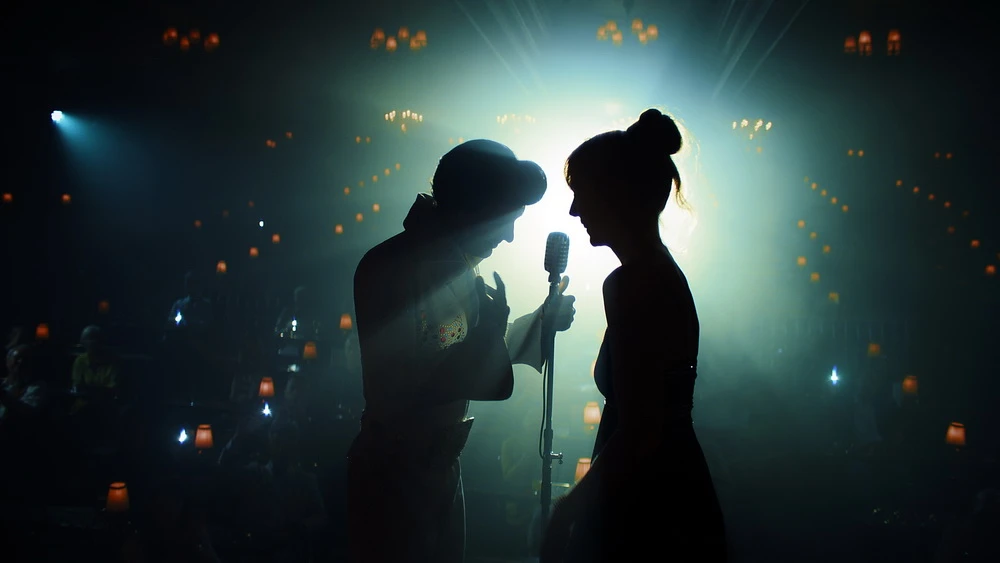 In the best comedy tradition, the labyrinthine narrowness of the ship is used to advance the plot. In addition, "The Black Square" also emphatically confirms David Foster Wallace's assessment of the nightmare "cruising across the river".
This gesture of excellent entertainment, invitingly turned towards the audience, was supplemented by a series of "court classics" that were discovered at earlier festival editions: " Strangerthan Paradise ", " Men","A Nightmare on ElmStreet "," The German chainsaw massacre "and" One night in Tierra del Fuego". Films that illustrate how broad the festival's aesthetic spectrum has always been. In addition, there was another Joachim Król retrospective, where you could check how well " We can do differently"Has aged from Detlev Buck. That is to say, very good. The first minutes of the film: Joachim Król at his very best!
Films with a view to the present
However, such invitations to the cinema with exclamation marks should not be interpreted as a tendency to indulge in old times or to escapism in difficult times, because of course the reference to the present and its upheavals quickly re-established through the overall program of the festival. There is, for example, Martin, who is out and about in Berlin with his daughter Leyla. He has an appointment with his ex to hand over the child, but she prefers to celebrate with friends on a jetty. Keyword: Corona Party! Martin is not amused. Since he became a father, he has become stricter, he tells a chance acquaintance. And: "I've been feeling so Nazi lately. I only see administrative offenses everywhere. Take a look at the people! That is not allowed! "He, Martin, is then probably responsible, is countered to him. Responsible? "I don't like what I find out about myself at Corona." "Talking continuously" (Director: Frédéric Jaeger) is a short film, but it records the mood in times of the pandemic very precisely. With a clear tendency towards hygiene and sociopathy. After all: Martin will do something later that he would certainly not have allowed at the beginning of the film.
The pandemic was also the subject of " Isolation", A compilation film by Michele Placido, Julia von Heinz, Olivier Guerpillon, Jaco van Dormael and Michael Winterbottom, who tell of the effects of the pandemic from different perspectives. The results are sometimes poor when the familiar images of empty streets or coffins being transported away by military vehicles are cut together and people philosophize about the adaptability of people. If art is a foodstuff, does a lack now be followed by a blossom? Because you noticed how important art is? Or was it not discovered earlier how dispensable a lot is?
Julia von Heinz plays the topic about bonds, as the free time allowed her to trace her deceased father, whose biography was characterized by a different form of isolation. Rosa von Praunheim, on the other hand, is on hand to offer advice and assistance. There are phone calls and emails and pictures from the Love Parade. Michael Winterbottom, on the other hand, countered the cheap self-pity in lockdown by saying that the tightness and inactivity for asylum seekers, experienced as crisis-ridden and depressing, is simply everyday life and usually hardly worth mentioning. Perspectives also shift in this way.
Everything included: crisis, criticism, commerce
In literary criticism, there is currently a discussion about why the impending climate catastrophe has not yet been reflected in novels and stories. Now, compared to literature per se, cinema is the slower medium for reflecting on the present. Especially when it's not about no-budget guerrilla cinema, but about more conventional forms of storytelling. Nevertheless, one was amazed a few times at the way the young filmmakers combine crisis, criticism and commerce.
For example, there was " Apocalypse Baby, We Advertise the End of the World " by Camille Tricaud and Franziska Unger - a colorful TV sales show under the conditions of the post-climate catastrophe, in which products such as an air pipe against air pollution or electric shock therapy for cheerful people Consumption with quiz- "Name three archipelagos that have disappeared due to the rise in sea levels!" The winner is Teresa, who works as a graphic artist for the start-up "Ark up", which produces very successful floating houses. There she is responsible for the green image of the start-up and is familiar with the matter. "Apocalypse Baby" works with great pop songs, is perhaps a bit too sarcastic for a satire, but it is very precise when it comes to the point.
" I buy your fear " by Florian Anders also hits a similar line . Here a provocative art project disguises itself as an online show in the evening painting style: everyone at one table. Artist Laurenz assumes that everything has its price and that he has a lot to offer his candidates in this regard. Everything but morals. How much money does a migrant ask for to be beaten up by a right-wing extremist in front of the camera? Can a homeless person let himself be set on fire in his sleeping bag and last 30 seconds? Laurenz, ironically played by Samuel Koch, likes the role of the eloquent misanthropist who hopes for opposition among the participants. Sina would be the right candidate for this; she has nothing more to lose, apart from her petty criminal friend Mario.
"I buy your fear" is very entertaining: A low budget film about big money, a B-movie full of funny, skewed dialogues and characters that can change their character traits within a few settings. Just a tough guy, now a grinning loser. In the end, of course, it's about morality - and the art project is only a means to an end, to prove that "capitalism is an ailing system and doomed".
Message in a bottle from earlier times
But because neither the pandemic, the climate catastrophe nor the criticism of capitalism strongly shaped the tone of the 2021 festival, but rather remained marginal, the program looked almost like a message in a bottle from a time when other, less universal topics and problems were on the agenda. However, they have not lost any of their topicality at all, but have only slipped into the second or third link of the media discourse.
The program selection succeeded in the remarkable feat of selecting the different films in such a way that there were always surprising responses. If you wanted to name these "old" topics, then they would be, for example, illness, care, an aging society, different models of community beyond the traditional family, puberty and adolescence, the social.
" Lethe"By Micon Gerthold tells of Egon, a pensioner with dementia (impressive: Gerhard Fehn), who likes to escape from the confusing present into the past. Care in the family is characterized by irritability and excessive demands; sometimes also from neglect and violence. The film solves the portrayal of the disease by restricting the camera's field of view, which isolates the characters from one another. This is consistent if one assumes that when dementia begins, there is still a struggle for memories in conversation. But what if the patient no longer experiences the slide into dementia as suffering, but simply overwhelms the family members?
"Lethe" shows that too, but then frames the plot with a family reunion at which the prodigal son Sven shows up with his fiancée. The picture suddenly tilts; forgetting now seems a mercy to some, a scandal to others, because accounts no longer get caught if the accused can no longer remember. The ending of "Lethe" is simply great. The dream of family happiness - all a lie, maybe, but sustainable.
The focus: illness, care, worry
Films like " Brain Tattoo"(Director: Lukas Röder),"Heal yourself "(director: Yasmin C. Rams) or"Würdebewahrerin"(director: Sandro Rados) with the theme of illness / care / worry, but even in the more conventional drama" At the end of words "(director: Nina Vukovic ) about the corps spirit in the police, the demented father of the young idealistic policewoman Laura lies in the living room at the beginning.
Sometimes films also manage to take up several of these themes at the same time, which can then lead to a certain overstretching and breathlessness, which, however, should not be understood as superficiality. The following applies here: The next problem, the next excessive demand, lurks around every corner. For example in " Sugarlove"(Director: Isabell Kleefeld)! At the stove, the marriage between sociology professor Patrick and psychotherapist Julia works very well; But when it comes to sex, interests diverge. Fortunately, there are service providers such as the "Sugarlove" portal and liberal rules of the game among married couples, which should be kept as transparent as possible. Patrick is allowed to log in as "Sugardaddy" and meets "Sugarbabe" Claire, who in this way makes men so completely happy that there is hardly any time left for their own studies. It quickly becomes clear that Patrick is fascinated by Claire's nature, that she, too, appreciates the old man, that it won't work with the agreed "only sex", especially since Claire eventually realizes that she's the role in this ménage à trois the "outsourced pussy" belongs to. Which initially turns the film into a kind of "Fateful Affair 2.0", before a former Sugar Daddy Claires bloody defuses the occasional conflicts that have arisen. So far, so conventional; the show values ​​of bourgeois satiety, however, fit.
Another example: Eva, a single parent, and her son Felix, who suffers from Asperger's Syndrome, who is always prone to attacks of fear and anger and who therefore has problems at school. Eva wants to protect Felix, which causes permanent excessive demands, which in part also has to do with her self-image as a loving mother, which anticipates all conceivable problems. The friendly neighbor Pelle could be of help, especially since he gets along well with Felix, but Pelle has problems of his own. " Between us " (director: Max Fey) turns out to be a really clever, breathless obstacle parkour where the next problem lurks around every corner. With an announcement, which one can definitely appreciate, especially since the moments of surprise that make up the oppressive of the situation are missing.
Puberty is pretty exhausting
Compared to a tour de force like "Between Us", the short, observational documentary " Grown or something " by Marlena Molitor seems refreshingly casual. A group of young girls who meet to talk to each other. About the idea of ​​graduating from high school because you have no other plan, about diets, narcissism, sex, the body, in short: about the experience of growing up. Sometimes there is also smoking, music, dancing. Puberty is pretty exhausting. A beautiful language is spoken here, laconic but fast.
At the beginning a photo from happy days: a caravan, grandma and grandpa, next to them the sisters Lilli and Lea. It must have been a great summer vacation back then. Now grandma is dead and grandpa is a need for care. When Lilli sees the photo, she wonders if there is a place behind the photo where everything is as it used to be, where time stands still, where the beautiful moments are collected, where happiness can be captured - like on this one Photo. What is a nice memory is being called into question in the present. Lilli's incredulous look when she notices what is happening to her older sister Lea when boys are around. The boys are so stupid, knocking silly things and drinking.
The two girls live almost alone with the grandpa who is to be looked after; her mother is rarely at home and is usually irritable or tired. Things drift apart, an accident happens. But in the end, Lilli takes great care to preserve her image of happiness forever. Involuntarily, one thinks briefly of the end of Kubrick's "The Shining". What if Lilli was right about her idea of ​​paradise?
To a certain extent, at the other end of the youth spectrum, is " Difficulty going on"(Direction: Alexej Hermann, Elke Weinreich). Maria is 33 and still partying. She moves around the houses with changing men. In the Circle of Friends, relationships are strengthened, families are founded and first pregnancies are celebrated. In this phase of establishment, Maria gradually becomes a foreign body; The first conflicts are sparked off by their way of life, which is suddenly no longer in vogue when expectant mothers meet for breakfast. This development can be ignored for a while, but then Maria's suitability for everyday use begins to slide. There is also an unwanted pregnancy. What is irritating is that the film seems to share the somewhat morally sour attitude of the friends and that the protagonist actually assumes an inner emptiness. It gets even more irritating when the pregnant Maria appears for a consultation with a doctor and, at the age of 33, apparently finds out for the first time how it works with an abortion. My body, a mystery? Very strange, but "Schwer los" had the best score of the festival, taken care of by Philip Thimm.
Final picture for a good vintage
The biggest surprise in the colorful festival program was " Stand Up! What remains when everything is gone "by Timo Jacobs. Was it possible for him to make his directorial debut "Shut up cowboy! "(2012) still consider himself to be an epigone of his discoverer Klaus Lemke, his new film exudes a melancholy that has washed itself and is actually reminiscent of films like" Supermarket"Or" Fat City"Makes you think. Jacobs plays the once successful comedian Charlie Schwarzer, son of a once even more successful joke teller. He is now being diagnosed with dementia; he will no longer be able to remember a new program, the old routine no longer works. The audience lifts their legs because his jokes are so flat. In addition, his great love leaves him, whose father in turn is a big figure in the art business. So the film moves with a large portion of world disgust between cabaret taverns, scene galleries and suburban villas, between bad and badly told jokes; but Charlie struggles through the fray, is threatened, blackmailed, beaten, mutating briefly in the direction of Lenny Bruce, and then finally getting a nice, very honest exit from the stage.
In the end, exhausted, but not broken, it's off towards the sea, with love in your luggage. Once felt big, once painted big. A nice final picture for a good vintage.
https://www.filmdienst.de/artikel/51009/die-55-filmtage-hof-2021